I tried many different solutions to deal with the poor air quality in the house, and after spending a lot of money on solutions that did not work, I found the perfect solution.
The TRACS® Portable UV-C Air Purifier TM-250 worked perfectly in my home.
TRACS® Portable UV-C Air Purifier TM-250: Worth The Money?

Things To Consider Before Buying A TRACS® Portable UV-C Air Purifier TM-250
Air purifiers are an investment for your health. The change of seasons makes it essential to ensure that the air quality in your home is good.
Recent studies have shown that poor air quality is responsible for increased Covid-19 infections.
Indoor air quality is polluted by the shedding of pets, dust, allergens, smoke, and other pollutants.
An air purifier helps to improve the quality of air in a room through different seasons.
Winter seasons are likely to have increased indoor pollutants, while the pollutants will come from outside in the warmer months.
Good air quality is important to keep you and your family healthy with fewer pollutants that cause breathing problems.
When considering the kind of air purifier you should buy, you should get one that will filter out most of the pollutants likely to occur in your living area.
An air purifier that eliminates pet dander is ideal if you have pets. Another thing to consider is the size of the purifier that you will get. They come in various sizes.
Choose a purifier proportionate to the room you will place it in. A small purifier in a large room may not adequately eliminate the pollutants, and it may be better to get a larger one.
Check the air purifier's efficiency, measured by the air change rate. The best purifiers have an air change rate of five to six ACH.
Something else to consider is the noise levels of the air purifier; almost all purifiers will come with fans.
It is better to use one with less than fifty decibels not to disturb your sleep. Also, consider the maintenance work and costs needed to keep the purifier working optimally.
The filters will need to be replaced over time, and you want to have a purifier where the process of replacing them is easy, the parts are accessible and affordable.
What is the TRACS® Portable UV-C Air Purifier?
TRACS® Portable UV-C Air Purifier TM-250 is large enough to cover large and medium-sized rooms adequately. It provides a high level of air purification, which is a definite plus.
The unit is not noisy, making it suitable for homes with small babies and large offices requiring a quiet unit.
The air purifier also comes with whisper mode, which makes the running of the air purifier even quieter, which is suitable for settings that need silence, such as classrooms.
It comes with a lifetime warranty on the frame, which is a definite plus. A five-year warranty covers the other parts.
Features & Benefits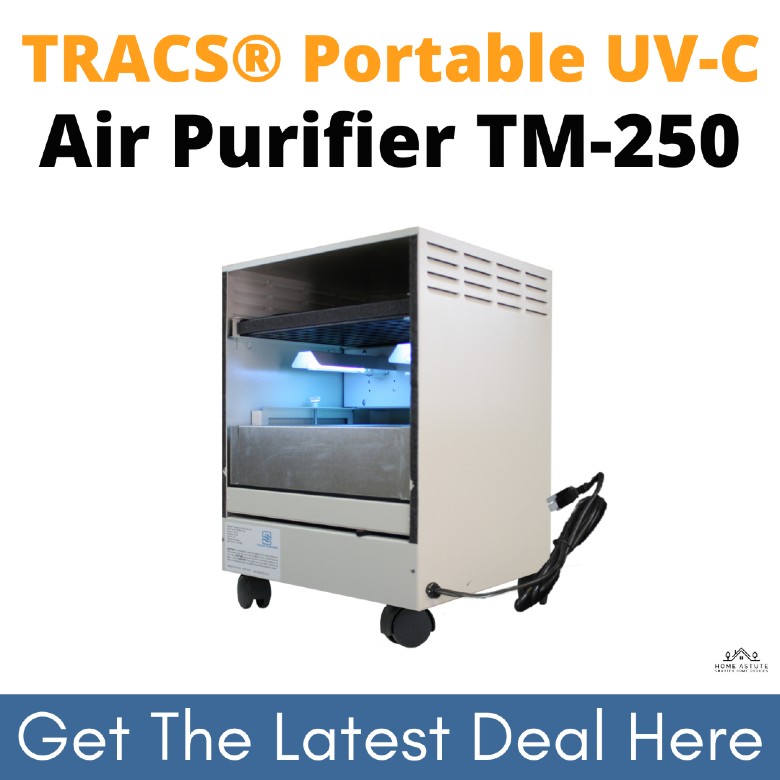 Portable And Can Be Mounted On Various Surfaces

You can easily install the TRACS® Portable UV-C Air Purifier TM-250 on the ceiling, which is best for high traffic areas, where it needs to be out of the way.
It can also be installed on the floor of a room and works just as well in any position.
It can be safely mounted in different areas and will remain in position without endangering the occupants in the room.
Medical Grade HEPA Filter

The TRACS® Portable UV-C Air Purifier TM-250 has a HEPA filter of medical grade, which is very effective. It can trap over ninety percent of bacteria and viruses in addition to dust, pollen, and other pollutants.
This air purifier is an excellent option in public areas that experience plenty of human traffic, such as institutions, hospitals, and even homes.
The filter ensures that the air is purified to the highest level.
Suppose there are people in the room who are infected with bacteria.
In that case, the uninfected people are unlikely to be infected because the air will be purified effectively by the HEPA filter so that the bacteria does not spread.
HEPA Filter Life Is Up To 5 Years

The HEPA filter lasts for up to five years, making it affordable and convenient.
The TRACS® Portable UV-C Air Purifier TM-250 works optimally throughout the period and filters the pollutants and contaminants to produce high-quality air.
For the filter to work optimally, you should clean it regularly.
Carbonweb® Merv 8 Pre-Filter Removes Odors And Toxic Gases

The pre-filter in the TRACS® Portable UV-C Air Purifier TM-250 is a proprietary blend of carbon that removes toxic odors.
It is designed to remove all gasses, smoke, chemicals, volatile organic compounds, and ozone pollutants.
The carbon absorbs and can cleanse the air of these pollutants. To have the carbon filters work optimally, they should be maintained by cleaning and changed when they need arises.
For areas with high levels of pollutants, you will need to change the filters more often because they get dirty faster.
It Has The Highest UVC 254 NM Dosage 18,415 Microwatt Sec/Cm2

The UV-C light, the ultraviolet germicidal irradiation technology, is an effective and important purification part of this air purifier.
UV-C light works as a disinfectant of any dangerous pollutants to get rid of dangerous contaminants in the air.
The UVC light works with the HEPA filters to ensure that all germs, bacteria, and viruses are filtered and destroyed, making the air safe.
With Coronavirus being easily transmitted as it is airborne, the high levels of UVC light in this air purifier work to eliminate the virus and reduce its spread in a room.
Has "Whisper Mode" Setting To Run Silently

The TRACS® Portable UV-C Air Purifier TM-250 is quiet, especially considering its large size and a four-speed inverse impeller fan which can be noisy.
You can also set it on whisper mode, making it run even more quietly. It is suitable for areas that require silence, such as hospitals and schools.
The decibel level in the whisper setting is forty-four, while it will run at the highest decibels of fifty-nine decibels, which is reasonable. Even at whisper mode, the purifier still works optimally.
Indicator Lights Let You Know Precisely When To Replace Lamps And HEPA Filters

The indicator lights make it easy to know when to replace the lamps and the filter. It eliminates the need to open the unit to check if a replacement is needed.
The light is automatically activated within the purifier system when the lamps run low on voltage and output or when the HEPA filter has a lower purifying capacity.
Coverage 1,875 Sq. Ft. Per Hour, 937 Sq. Ft. Every 30 Mins

It has a high purifying capacity as it can clean the air at a rate of 1,875 square feet in sixty minutes.
TRACS® Portable UV-C Air Purifier TM-250 is efficient for large rooms with many people and plenty of foot traffic.
The air purification is carried out in three stages using carbon filters, the UVC 254 nm, and Hepa Filtration.
All these work together to ensure that the air is cleaned and over ninety-nine percent of the pollutants removed.
The Lowest Annual Operating Cost Of Any Air Purifier Utilizing UVGI Technology

UVGI technology uses a lot of energy, making running the air purifier expensive. However, the TRACS® Portable UV-C Air Purifier TM-250 is energy-efficient, making it cheaper to run.
It does not use as much energy as other air purifiers with the same technology.
High-Quality Frame With Great Finishes

The frame is made in the US of high-quality solid steel, which is welded together.
It comes with a powder-coated finish, and if you would like to get a particular color, there are custom colors available.
The air purifier is one of the most aesthetically pleasing, and you can choose a unit that will blend in with the decor in your room.
Lifetime Warranty On The Frame, Five-Year Warranty On Everything Else

The frame is made of such high quality that it has a lifetime warranty. The other parts of the air purifier, such as the filters, fans, lights, and other parts, have a five-year warranty.
The purifier is made with superior quality items which last long and work efficiently, especially with the proper care and professional maintenance.
In addition to the warranty, the air purifier comes with a thirty-day one hundred percent money-back guarantee if you are unhappy with the purchase.
Easy Operation Control Panel

The control panel is easy to understand and straightforward to operate.
The control panel has an indicator light that alerts you that the purifier is on and it is operated by a speed control knob.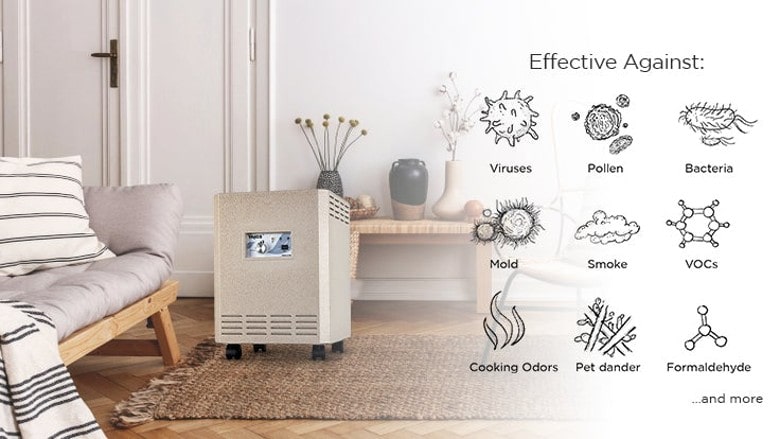 What Others Are Saying
Before purchasing the TRACS® Portable UV-C Air Purifier TM-250, I searched for people who have used the air purifier and their experience, and I found plenty of positive reviews.
I use it in a large classroom and, despite having sick students in the room who are not always the most hygienic, I have not contracted anything from the students that I am aware of.
TRACS air purifier works well with a silent unit with the motor going for years, no problems, and the unit is silent on the low setting. The unit removes odors, and maintenance is straightforward. Anyone wanting a top-quality air purifier should consider a TRACS.
TRACS Alternatives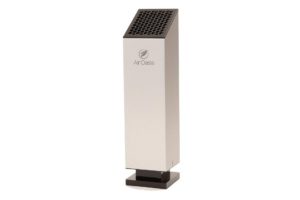 The IonicAir™ UV Purifier works by using filterless ionization to filter the air. It also works by AHPCO Technology to clean air and surfaces to eliminate contaminants and pollutants.
Compared to the TRACS® Portable UV-C Air Purifier TM-250, it is way cheaper; however, the technology used in the Tracks air purifier ensures a more thorough purifying job resulting in better air quality.
TRACS vs. IonicAir
TRACS® Portable UV-C Air Purifier TM-250
Uses a HEPA filter
3 Stage filtration
Costs $1,199.00
IonicAir™ UV Purifier
Filterless Ionization
NASA Influenced AHPCO Technology
Costs $499

The Pure Enrichment®️ PureZone™️ is a comparable product to the TRACS® Portable UV-C Air Purifier TM-250.
Both products use HEPA filtration, which results in over ninety-nine percent of pollutants being eliminated, and they both use UVC light for increased elimination of bacteria and viruses.
The Pure Enrichment PureZone air purifier is cheaper than the Tracks air purifier.
TRACS vs. Pure Enrichment®️
TRACS® Portable UV-C Air Purifier TM-250 
Uses a HEPA filter
3 Stage filtration
Costs $1199.00
Pure Enrichment®️ PureZone™️ True HEPA Medium-Large Room Air Purifier
Uses a HEPA filter
4 Stage filtration
Costs start from $120.15

The Germ Guardian is a home air purifier that has a four in one filtration system that uses a HEPA filter, UVC light, charcoal filter and TIO2 treatment to purify the air.
Compared to the TRACS® Portable UV-C Air Purifier TM-250, it is cheaper and has the equal capability of cleansing the air, but it cannot work in large rooms as effectively as the Tracks air purifier. It is quieter than the Tracks air purifier.
TRACS® vs. Germ Guardian
TRACS® Portable UV-C Air Purifier TM-250
Uses a HEPA filter
3 Stage filtration
Costs $1,199.00
Germ Guardian
Filterless Ionization
4 Stage filtration
Costs $99.99
Final Thoughts
The TRACS® Portable UV-C Air Purifier TM-250 is an efficient air purifier and works efficiently to improve the air quality by almost one hundred percent.
It has a three in one stage filtration, which ensures elimination of most pollutants and contaminants, and is a high-quality product with long-term warranties.