If you're like me with severe allergies and live in a major city, or if you just want the best for your health, an air purifier like Airdog X3 Home Air Purifier ensures that your home is filled with the purest air possible.
Airdog X3 Home Air Purifier: Worth it?
THINGS TO CONSIDER BEFORE BUYING AN AIR PURIFIER
Air purifiers won't solve all of your health issues, but they will make your home's air cleaner.
According to the United States Environmental Protection Agency, Americans spend around 90% of their time indoors, where pollution concentrations are sometimes 2 to 5 times greater than outdoor air concentrations.
The most effective approaches to improve indoor air quality are to eliminate polluting sources and to ventilate with fresh, clean outdoor air. When those measures are insufficient or unavailable, room air purifiers can help.
However, room air purifiers have limitations. Consider upgrading your home's heating, ventilation, and air conditioning system if you want to improve the overall air quality throughout the house.
If you're thinking about buying an air purifier, we've put together a list of things to think about before you make your purchase.
SPECIFIC NEEDS
First, identify your needs for purchasing an air purifier. Are you going to use it in the bedroom to absorb dust and toxins, or in the kitchen to reduce smoke? What size room do you intend to use it in? To make an informed purchase, you will need to clearly define your requirements.
FILTER TYPE
Air purifiers purify the air using filters. The more effectively the installed filters absorb various types of impurities, the cleaner the air will be.
Some filters (like HEPA) are great at removing pet dander, while others (like activated carbon filters) are great at removing smoking and other odors from the kitchen.
Ionizers and UV lights, on the other hand, effectively eliminate dust particles and bacteria. Some filtering technologies, such as ozone generators, are excellent at removing mold, but they should not be used in the presence of people who have chronic lung problems.
MAINTENANCE
Although the frequency of cleaning and filter replacement is determined by the air quality, choosing an air purifier that is simple to clean will be beneficial.
The cost of replacing a long-lasting filter will be minimal as well. A four-month interval between filter replacements is recommended. Many HEPA filters have a lifespan of six months or longer.
INTRODUCING THE AIRDOG X3 HOME AIR PURIFIER
The Airdog X3 Home Air Purifier is the next generation of innovative clean air technology that does not require disposable (HEPA) filters. Its reusable filter is simple to clean using a dishwasher or by hand.
The Airdog X3 Home Air Purifier prioritizes your safety and the environment. With its ionic wind filtration technology, you'll be able to avoid inhaling common indoor air contaminants. In comparison to other air purifiers on the market, like HEPA, you can breathe cleaner air.
It also operates quietly. Its energy-efficient and waste-free design will also save you time, money, and the environment. Its Super Smart Auto Mode adjusts the airflow speed according to the air quality index.
PROS
Filter is reusable and dishwasher-safe
Four different filter steps
Minimal maintenance
CONS
Produces a minimal amount of ozone

FEATURES AND BENEFITS OF AIRDOG X3 HOME AIR PURIFIER
DESIGN
The rectangular shape of the Airdog X3 Home Air Purifier is similar to that of many modern air purifiers. It's 14.5 inches tall and 12 inches wide, so it's a good size.
It's heavier than it appears given its size, weighing in at 12.7 pounds, yet it's easy to move around. It's easy to raise with your hands, thanks to a few cutouts towards the top.
The corners are rounded for enhanced safety. Furthermore, the base is somewhat elevated, so it will not become easily entangled in the carpet.
The Airdog X3 Home Air Purifier case is made of ABS plastic in a matte white finish. The coating repels dust and fingerprints. Given that air is sucked via the intakes, dust will inevitably build around them.
When this happens, simply wipe the case down with a moist cloth.
The air intake vents on the Airdog X3 Home Air Purifier are positioned near the bottom of the case. They're laid out in an irregular bar graph pattern and feature a grid-style design.
The air is subsequently sent through the filter, which is located in the unit's lower part. The air is drawn through the top of the unit by a fan before being expelled out a radial black vent.
On one corner of the top, there is a single power button that can help you choose between three different speeds, with a LED light indicating the current speed. The X3's design is tiny and tidy, without a lot of controls.
A one-year manufacturer's guarantee is included with the Airdog X3 Home Air Purifier.
OPERATION
The Airdog X3 Home Air Purifier has a 323-square-foot capacity assuming typical 8-foot ceilings. This is a good size for any bedroom. It's also big enough for most living rooms, kitchens, and any other space in your house.
You can move it as you go, or use various filters in different rooms. You might even put the purifier in your bedroom to keep the air pure while you're sleeping.
The Airdog X3 Home Air Purifier runs quietly, though the actual volume depends on the setting of your fan. There's an audible buzzing when it's set on high, though it's not a problem in regular conversations or daily life.
However, if you're attempting to sleep, you might want to lower the volume a little. The Airdog X3 Home Air Purifier is barely heard on the lowest setting. To hear the flow of air through the filter, you actually have to put your ear near to it.
We have observed that the X3's external controls are a little lackluster. If you want extra features, simply connect the Airdog X3 to your home's WiFi network.
The AirDog app is available for free on iOS and Android and can be downloaded in a matter of minutes. You may control the Airdog X3 Home Air Purifier air filter wherever you are in the world with the app.
This is a fantastic way to activate the filter before you go home from work. In addition, the app allows you to monitor your air quality in real-time. This feature makes it simple to determine if the purifier should be turned on or off.
FILTER SYSTEM
The dishwasher-safe TPA filter is a key selling point for the Airdog X3 Home Air Purifier. Instead of replacing your filter every few months, you only need to wash it once a week or so.
This will save you a lot of money in the long run. You won't have any problems with the filter because it pops in and out easily. Just be sure to wash it on the top rack of your dishwasher, as the bottom rack might easily harm it.
The filtering system is extremely efficient, removing particles as fine as 0.0146 microns. This is approximately 5% the size of the tiniest particles that a conventional HEPA filter can catch.
Mold and pollen are among the contaminants that a HEPA filter can eliminate. You may also eliminate VOCs, smoke, bacteria, and the great majority of viruses. The filter is intended to kill germs as well as trap them.
Having said all that, the X3's filter technology is essentially an ionizer. This means it will emit a little amount of ozone. This will not be a problem for many people.
However, if you want to keep the ozone level in your home as low as possible, a classic filter is the way to go.
Now that we've cleared things up, here's a quick rundown of how the X3's filter works:
A basic pre-filter screen eliminates big particles such as pet hair and dust bunnies. This pre-filter screen is the grid-shaped intake on the exterior of the casing.
This component of the purifier only needs a simple wipe down with a moist cloth to keep it clean. Everything else is contained within the case and is washed in the dishwasher.
A set of emitter wires is involved in the next phase of the X3's filtration process. These emitters generate an electrical field, which charges any particles that come into contact with it.
Bacteria and viruses are then killed by an ionic field in the following stage. It is critical to understand that it is not similar to UV sterilizers or other types of sterilizers.
Over 99.87 percent of germs will be killed after many passes through the purifier. But while the Airdog X3 Home Air Purifier is effective, it isn't a medical-grade filter.
A series of collection plates make up step four of the filtration system. These plates are organized in a grid and have an electrical charge that is the polar opposite of the charged particles.
As a result, the particles adhere to the plates, leaving only pure air to exit the filter. These plates can be washed and reused. A catalytic filter completes the filtration process.
This filter is meant to remove odors from the air, not particles. It eliminates odors from cooking, cigarettes, and pets, ensuring that your air is as fresh as possible.
WHAT OTHERS ARE SAYING ABOUT THE AIRDOG X3 HOME AIR PURIFIER
Looking at what other people are saying about a home air purifier is one of the things that might help you decide which one to buy.
Here are some comments made about the Airdog X3 Home Air Purifier.
"Modern design, simple to use, and washable filters put Airdog X3 air purifier on the wanted list. Airdog X3 is built to produce zero waste but, at the same time, to provide excellent performance in filtering air.'
"With the current medical situation ongoing, I feel comfortable saying we should all look at air purifiers. After a few weeks, I feel comfortable recommending the AirDog X3."
"Having a high-performance air purifier with a washable filter is a refreshing change, and not something we've seen much elsewhere. While the X3's performance wasn't quite to the level of the most high-end HEPA purifiers we've tested, it was reasonably close. Reasonably close, while also not having to buy replacement filters every 6-18 months, is a big win in our book."
AIRDOG X3 HOME AIR PURIFIER ALTERNATIVES
We have three highly-rated alternatives you can consider if you want to compare the Airdog X3 Home Air Purifier to other home air purifiers before placing an order.
TRACS Portable EZ-Air Purification System TM-EZ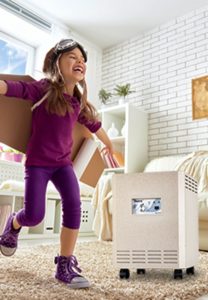 The TRACS Portable EZ-Air Purification System TM-EZ is a multi-stage air cleaner that uses a combination of certified hospital-grade HEPA filtration and activated carbon to help eliminate the indoor air contaminants that cause allergy, asthma, and respiratory problems in individuals of all ages.
It's ideal for high-traffic areas that require a lot of air circulation, as well as areas with a lot of toxins and pollutants in the air.
TRACS VS. Airdog X3
Certified hospital-grade HEPA filtration
5-year warranty
1,875 sq. ft. coverage per hour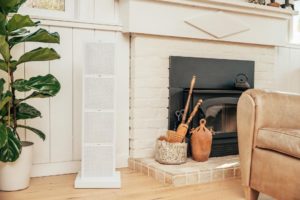 The iAdaptAir HEPA UV Purifier has three distinct modes to give superior air-purifying functionality in the home. After less than an hour of use, this air purifier removes impurities by 99 percent and keeps them at bay.
iAdaptAir VS. Airdog X3
Ozone-free
Comes in three sizes
Lifetime warranty

SKYE is a five-stage air purification process that uses the most advanced kinds of filtration and germicidal technology in a well-tested method to ensure that you and your loved ones enjoy the cleanest air possible in the room that requires purifying.
SKYE VS. Airdog X3
5 stages of purification
1,200 sq ft capacity
2-year warranty

FINAL THOUGHTS
The Airdog X3 Home Air Purifier is a well-designed air purifier with a fair price tag. It's a portable device that can be used in almost any place in your home. It's appealing to the eye, and it's simple to maintain clean when it gets dusty.
It is hard to top if you're looking for a simple, efficient home air purifier. The washable filter is its most notable feature and distinguishes it from typical HEPA filters, which are pricey to replace. Go ahead and check it out if you think this is the perfect air purifier for you.